Enhanced diagnosis
We have a strong focus on inter-disciplinary working to evaluate technologies that could improve the diagnosis of cancer.
We are working on improving the detection of early cancers and pre-cancerous bowel polyps using new imaging technologies and specially engineered bacteria that help us to identify areas of risk.
We are developing more effective ways of predicting patients' outcomes using biomarkers – tests which tell us about the current state of a tumour or its likely behaviour.
Two highlights in this area include…
Telomeres are the end parts of a chromosome: measuring them gives an insight into a patient's prognosis. We are building on previous success in analysing telomere length and how this can be applied to help better predict how fast a patient's cancer will grow. Having this information will enable doctors to prescribe the most appropriate treatments.
We are continuing to develop simple blood tests to spare patients a potentially intrusive biopsy by focusing on detecting DNA and exosomes that are released into the blood from tumours.
Research leads
Dr Kevin Bradley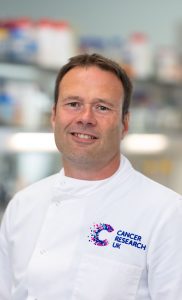 Dr Lee Parry
Dr Rob Jones