Personalised prevention
Our personalised prevention research focuses
on developing and evaluating strategies to
encourage healthier life-style choices in high-risk
groups of people, such as stopping smoking or
maintaining a healthy diet.
Personalised prevention
We are building on our strengths in screening, prevention and early diagnosis to reduce the burden of cancer on the people of Wales and beyond. We do this by conducting research which helps prevent cancer, wherever possible, which picks up abnormalities at the pre-cancerous stage or which detects cancer in its earliest stages before it can grow and spread.
We are using population data to…
Improve lung health by increasing awareness of lung cancer symptoms and encouraging people in deprived communities to seek help.
Look at genetic and lifestyle factors and link these with data on bowel cancer awareness to investigate:

Utilising artificial intelligence to analyse data and better understanding cancer risk and
Behavioural (e.g. diet) and therapeutic (e.g. prescribing medicines) prevention strategies in colorectal cancer.
Research leads
Dr Stephanie Smits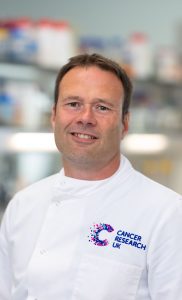 Dr Lee Parry
Dr Richard Clarkson