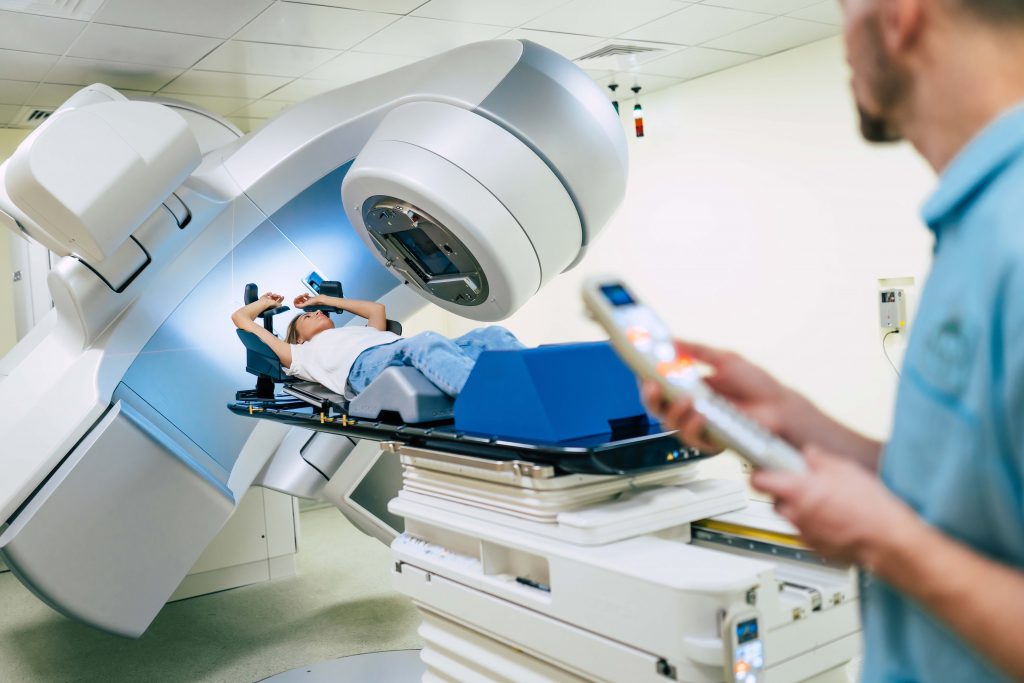 Dr James Powell, neuro-oncology consultant at Velindre Cancer Centre, is the CReSt theme lead for radiotherapy. He shares his thoughts on the importance of a collaborative radiotherapy research landscape across Wales.
"This is a hugely exciting and interesting time to be involved in radiotherapy research. Technological advances with radiotherapy machines are allowing treatments to be delivered more precisely, more effectively and with fewer side effects than ever before.
As a long-established treatment for cancer, radiotherapy already forms an important component of treatment in around 50% of patients with cancer. Radiotherapy research is a huge team effort involving researchers from lots of different specialties, including medics, physicists, radiographers and scientists working, for example, in genetics and immunology.
This research work ensures that the effectiveness of radiotherapy treatment continues to be improved, for example by combining radiotherapy with other treatments such as targeted drugs or increasing the precision of radiotherapy delivery by using the latest and most modern imaging techniques and reducing potential side effects. We believe that developments in these areas will have a significant impact on radiotherapy research in the coming years.
Wales has a strong track record in leading clinical trials that assess the effectiveness of new radiotherapy treatments. In addition, Welsh Government is investing in building the new Velindre Cancer Centre with a fleet of state-of-the-art radiotherapy equipment. This is a hugely exciting time for radiotherapy development in Cardiff and Wales, providing the potential for this new equipment and technology to benefit patients across Wales.
Over the coming years, we aim to grow the radiotherapy research infrastructure and support and foster collaboration between researchers and clinicians in Wales. We believe this will encourage new radiotherapy research ideas and help advance radiotherapy research across Wales.
We aim to provide opportunities for clinical fellowships and support early career researchers with time for radiotherapy research, supporting career development within the field. We hope to support and grow unique areas of strength in radiotherapy research in Wales, complementing our established track record of leadership in clinical radiotherapy research. Building on these areas of strength will allow us to be more competitive in future funding bids.
We are committed to involving patients and their caregivers in the design of new radiotherapy research studies. This will ensure that we maintain a firm focus on the research areas important to patients and that patients continue to shape the research studies that they participate in maximising patient's participation in radiotherapy research studies in Wales."