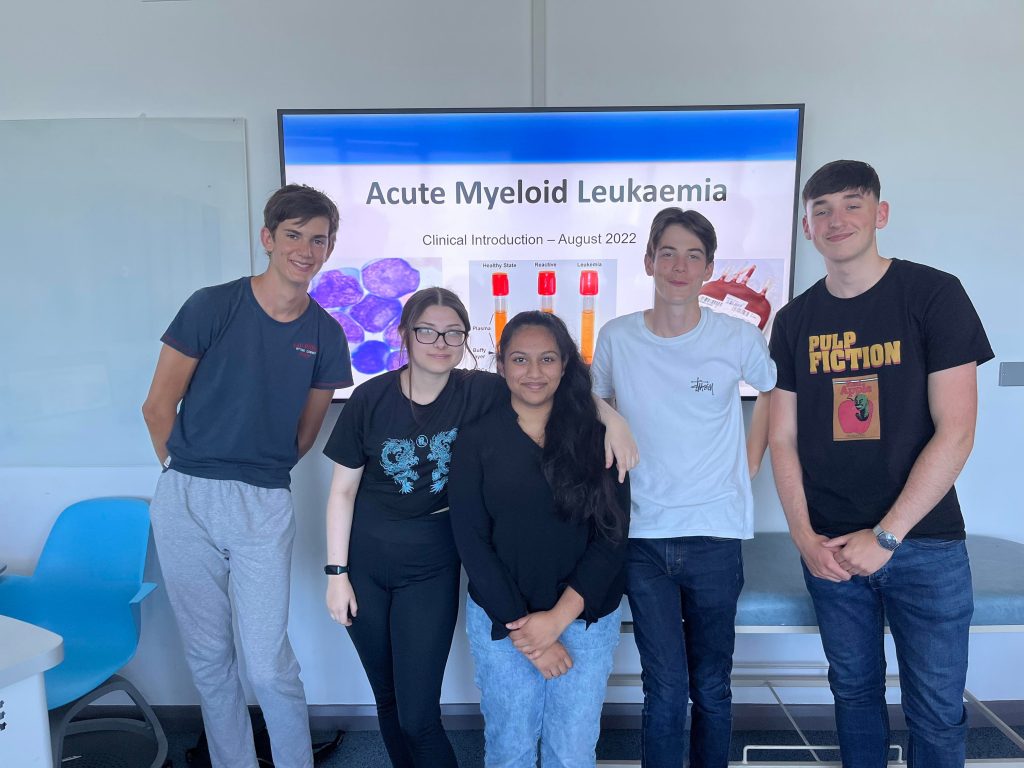 A group of sixth form students from across the UK took their first steps into cancer research as part of a week-long placement researching acute myeloid leukaemia (AML), led by Professor Alex Tonks.
Karthika Krishnan and Lauren Higgins, from South Wales, were offered this exciting opportunity as part of the In2ScienceUK programme. In2ScienceUK gives young people from disadvantaged backgrounds a chance to experience STEM careers and research, boosting their skills, confidence and career potential.
They were joined by Oliver Edwards and Alexander Watson from Eton College and Huw Knapper from Penarth, who were taking part in a Cardiff University work experience scheme.
Prof. Tonks specialises in abnormalities in blood cell development that lead to blood cancer. His work currently focuses on the identification of novel targets, biomarkers and potential drug targets for the treatment of one of these cancers – AML.
The students were taught a variety of lab techniques used by Prof. Tonks and his team, from cell biology to molecular biology including fundamental science such as pipetting, equipment sterilisation, cell and bacterial culture. They also learnt about the science of DNA, PCR testing, gene editing and flow cytometry.
"It's been a really enjoyable week," said Kat. "I loved using the different lab techniques and machinery and seeing how well-coordinated everyone is. The scientists are so dedicated to their research, which is really inspiring."
"Being in a lab environment is so different to what we do in school because we are learning by absorbing the surroundings and talking about science with people who do this every day," said Huw.
The students were also surprised by some unexpected learning opportunities that the placement provided.
Lauren said; "It's nice meeting people who like science from different backgrounds. Kat and I both qualified for the In2ScienceUK programme and we spent the week learning and making friends with students from Eton."
"I really enjoyed learning about cultures I'd never experienced before – especially when Prof. Tonks and the PhD students showed us the customs of Arabic coffee!" added Oliver.
The students all agreed that their week in the lab had made them even more excited about a potential career in research.
"It was an amazing week," said Alexander. "I wanted to go into lab work before I started the placement and now I know it's the path I'd like to take. I've learnt so much that will help me when I go to university."
"It's really solidified my interest in medicine," said Kat. "I've volunteered in clinical settings and shadowed consultants before, but this has shown me the other exciting side of a career in medicine – research."
Cancer researchers at Cardiff University will be hosting more In2ScienceUK and work experience placements this summer as part of a focus to make careers in science feel achievable to students from all backgrounds.
"One of the best things about my job is to try and inspire the next generation of scientists and clinicians," said Prof. Tonks. "It was fantastic to spend a whole week at the bench, showcasing our research and teaching PhD level science to these enthusiastic students."