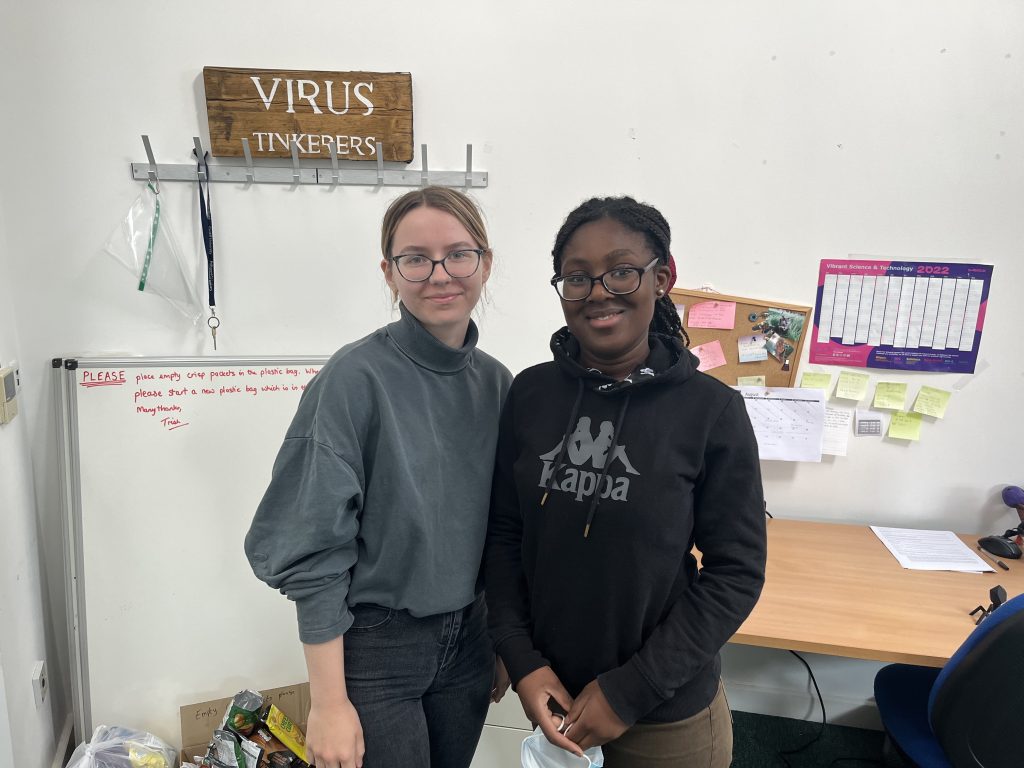 This summer the Wales Cancer Research Centre facilitated student lab placements at Cardiff University through In2ScienceUK, a programme that empowers young people from disadvantaged backgrounds by offering insights into STEM careers and research. Cardiff sixth form pupils Justyna and Blessing tell us about their week in the lab…
Over the past week, we have been lucky enough to take part in an In2Science lab placement week at the Cardiff University Cancer and Genetics building. Our mentor was Professor Alan Parker. He and his team were very friendly and knowledgeable about the subjects they were researching, so there was never a dry moment with them! We were very interested in the daily life of a researcher, so we were eager to get into the lab.
On Monday, we had a lab meeting where we were introduced to the team. They talked about what sort of things they had been looking at for the last week or so. After that, we went up to the lab and learned about cell culture with Rebecca. This was super interesting, and we were able to take part in splitting and moving the cells onto a plate ourselves!
During the lab meeting, we gained insight into the projects that the students were working on. We particularly liked how the topics that we are studying at A-level are relevant to cancer treatments. One of the things that sparked our curiosity was seeing the effects that the immune system has on disease as well as the treatment of cancer. We can see that these small proteins can completely affect our overall health when altered.
On Tuesday, we took our cells and conducted a GFP (Green Fluorescent Protein) assay. This included adding viruses to the cells. We then talked to Rosie about some structural biology and her research, which included 3D imagery of molecules using cryo-EM and crystallisation.
On Wednesday, we performed a BCA assay with Emma and got some time to work on personal statements and CVs with the help of admission staff that regularly look over applications for PhD placements. This gave a really good insight into what a great personal statement looks like, as well as what is needed to be successful!
On Thursday, we completed a Coomassie stain with Charley and got some great results, considering it was our first time doing this! Then Emma showed us a piece of software called PyMOL that helps to visualise and analyse biological structures in a modern way.
On Friday, we took a look at the cells that we had infected with the viruses and collected our results on them using the ACCURI, and then used FLOWJO to make some graphs and, ultimately, write our results up in our lab books!
It was great to have an insight into a job in research, have our many questions answered and experience the many interesting things that take place in a lab that you don't get to see on a day-to-day basis!