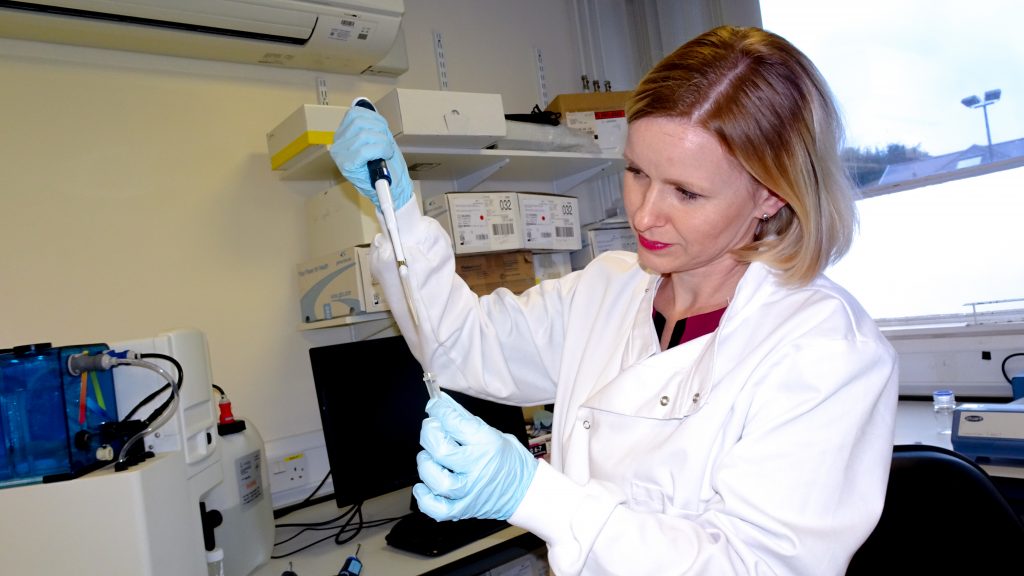 A Cardiff-based cancer researcher has been awarded funding from Health and Care Research Wales for her work on the introduction of a non-invasive blood test for patients with a high suspicion of lung cancer.
Dr Magda Meissner is a Medical Oncology consultant with extensive experience in ctDNA testing in clinical trials, based at the Velindre University NHS Trust.
A graduate of the Future Leaders in Cancer Research programme, she received a £230,000 Research for Patient and Public Benefit (RfPPB) grant from Health and Care Research Wales in October 2022 for her work, which aims to shorten the time from referral to the start of treatment for lung cancer patients.
The primary research pilot study is supported by the All-Wales Genomics Laboratory and hosted at the Aneurin Bevan University Health Board (ABUHB).
"Lung cancer is the third most common cancer in Wales, and the majority of patients are diagnosed at an advanced stage," said Dr Meissner. "Cancer genomic profiling allows clinicians to select the most appropriate, personalised treatment for the individual patient.
"But at the moment, the current pathway is not meeting nationally recommended standards. We want to speed up the process by testing lung cancer patients earlier in the diagnostic pathway using a blood test. This has the potential to save lives by increasing early access to targeted therapies."
Clinical trials have proved that targeted therapies improve patient outcomes, including survival, and have fewer side effects than chemotherapy or immunotherapy. Dr Meissner explained that as part of the project, personalised patient treatment will be guided by their blood test results.
Recruitment for the study will mainly take place among outpatients at the Rapid Lung Clinic in Aneurin Bevan University Health Board hospitals. Some patients may be recruited as inpatients in medical wards.
The Genomic results from the ctDNA blood test will be made available to the weekly lung cancer multidisciplinary team meeting (MDT), where cancer diagnosis and treatment decisions are made. Patients will then receive personalised treatment after the MDT without having to wait for the genomic report from a tissue biopsy.
"We are thrilled to have been awarded the RfPPB grant from Health and Care Research Wales," said Dr Meissner. "This pilot has huge implications for lung cancer patients and at-risk people across Wales who need rapid access to life-saving personalised therapies."
Prof. Mererid Evans, WCRC Director, said: "Dr Meissner is a rising research star, and we are delighted to hear that she has received this grant. She is a dedicated clinician and researcher who is committed to improving health and wellbeing in Wales. Congratulations Magda, it is very well deserved."
Michael Bowdery, Head of Programmes, Health and Care Research Wales, said:
"We were thrilled to see so many high-quality applications this year, both for project grants and personal awards. Our recent funding increase has allowed us to fund a few more awards than usual in a range of significant health and social topics aligned to Welsh Government priorities, including cancer, diabetes, looked after children, care leavers, mental health, emergency response and equality, diversity and inclusion. Collectively these projects are another example of the potential of research to make a real difference to people's health and wellbeing."
The project is funded from October 2022 until September 2024. For more information about the RfPPB grant, visit the Health and Care Research Wales website.